Investment Sponsor
ExchangeRight (ER)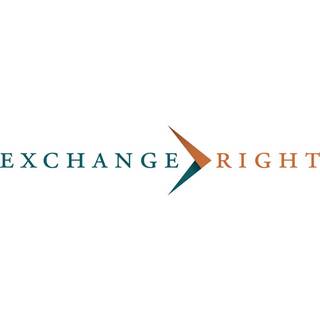 Formed in 2012, ExchangeRight Real Estate is a private real estate investment firm focused on the acquisition and management of single-tenant properties throughout the United States. The Sponsor and affiliates currently have over $2.4 billion in assets under management, including over 650 properties that total over 14 million square feet and are located in 38 different states. In addition, ExchangeRight is currently operating 2 companies that makes short-term debt investments into investment properties.
Investments Offered by ExchangeRight
41 Offerings
4 Open
41 Recommended
8 Full Cycle
Offering Status: Open
Login Required: Open investment offerings are only accessible to accredited investors. If you already have an account, please login for access. If you do not have an account, register for a free account.
If you are experiencing technical problems, please email clientservices@jrw.com.
Offering Status: Closed
Investment Name
Type
Recommended
Annual Cash Flow
Inv. Date
Full Cycle
Crystal Lakes Florida
DST
Recommended
0.00%

1485331200

Jan. 25, 2017
Full Cycle
El Paso Apartment Portfolio
DST
Recommended
5.95%

1517299200

Jan. 30, 2018
Active
Lakeside at Arbor Place
DST
Recommended
6.91%

1465974000

June 15, 2016
Full Cycle
Multifamily 1 - Van Mark Apartments
DST
Recommended
—

1427871600

April 1, 2015
Full Cycle
Multifamily 2 DST - Mira Bella Apartments
DST
Recommended
—

1438412400

Aug. 1, 2015
Full Cycle
Net-Leased Portfolio 1
TIC
Recommended
7.39%

1333609200

April 5, 2012
Full Cycle
Net-Leased Portfolio 10
DST
Recommended
7.09%

1441350000

Sept. 4, 2015
Active
Net-Leased Portfolio 11
DST
Recommended
6.77%

1449216000

Dec. 4, 2015
Active
Net-Leased Portfolio 12
DST
Recommended
6.30%

1459494000

April 1, 2016
Full Cycle
Net-Leased Portfolio 13
DST
Recommended
6.80%

1471935600

Aug. 23, 2016
Active
Net-Leased Portfolio 14
DST
Recommended
6.60%

1479456000

Nov. 18, 2016
Active
Net-Leased Portfolio 15
DST
Recommended
6.53%

1488441600

March 2, 2017
Active
Net-Leased Portfolio 16
DST
Recommended
6.78%

1496127600

May 30, 2017
Active
Net-Leased Portfolio 17
DST
Recommended
6.84%

1502348400

Aug. 10, 2017
Active
Net-Leased Portfolio 18
DST
Recommended
6.64%

1510214400

Nov. 9, 2017
Active
Net-Leased Portfolio 19
DST
Recommended
6.76%

1513843200

Dec. 21, 2017
Active
Net-Leased Portfolio 2
DST
Recommended
7.45%

1359705600

Feb. 1, 2013
Full Cycle
Net-Leased Portfolio 20
DST
Recommended
6.50%

1519286400

Feb. 22, 2018
Active
Net-Leased Portfolio 21
DST
Recommended
6.42%

1522393200

March 30, 2018
Active
Net-Leased Portfolio 22
DST
Recommended
6.27%

1528354800

June 7, 2018
Active
Net-Leased Portfolio 23
DST
Recommended
6.30%

1533625200

Aug. 7, 2018
Active
Net-Leased Portfolio 24
DST
Recommended
6.13%

1540278000

Oct. 23, 2018
Active
Net-Leased Portfolio 25
DST
Recommended
6.15%

1544515200

Dec. 11, 2018
Active
Net-Leased Portfolio 26
DST
Recommended
6.10%

1551686400

March 4, 2019
Active
Net-Leased Portfolio 27
DST
Recommended
6.34%

1557298800

May 8, 2019
Active
Net-Leased Portfolio 28
DST
Recommended
6.82%

1562742000

July 10, 2019
Active
Net-Leased Portfolio 29
DST
Recommended
6.82%

1567666800

Sept. 5, 2019
Active
Net-Leased Portfolio 3
DST
Recommended
7.52%

1359705600

Feb. 1, 2013
Active
Net-Leased Portfolio 4
DST
Recommended
7.00%

1379919600

Sept. 23, 2013
Active
Net-Leased Portfolio 5
DST
Recommended
7.58%

1391500800

Feb. 4, 2014
Active
Net-Leased Portfolio 6
DST
Recommended
7.83%

1398927600

May 1, 2014
Active
Net-Leased Portfolio 7
DST
Recommended
7.77%

1412146800

Oct. 1, 2014
Active
Net-Leased Portfolio 8
DST
Recommended
7.46%

1420099200

Jan. 1, 2015
Full Cycle
Net-Leased Portfolio 9
DST
Recommended
7.22%

1430118000

April 27, 2015
Active
Net-Leased Preferred Equity Fund 3
LLC/LP
Recommended
8.25%

1469084400

July 21, 2016
Active
Net-Leased Preferred Equity Income Fund
LLC/LP
Recommended
6.85%
None
Active
North Austin Apartment Portfolio
DST
Recommended
6.61%

1476860400

Oct. 19, 2016
Active